Dreams coming true – interview with Stefan Astakhov
14 February 2023
One of youngest winners of the Mirjam Helin competition at the age of 21, baritone Stefan Astakhov took the Helsinki audience by storm with his voice and performance in 2019. Since the autumn of 2022, he has been an ensemble member of the Vienna State Opera, after participating in the Vienna Opera Studio for two years.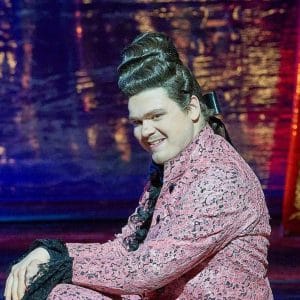 Astakhov recalls the 2019 Mirjam Helin competition lovingly, but laughs: "It was scary! Everyone else was five or six years older, and the repertoire was really demanding. Especially so in the semi-finals, when you have to keep the audience captivated for 20 minutes. I didn't know much about the Mirjam Helin competition in advance: only that it was held just once every five years, and I had heard recordings by the great Julia Lezhneva, who won the competition in 2009."
Astakhov found the process of preparing for and attending the competition very helpful. "You get to develop new interpretations and become stronger as an artist. You get to see what you can do and test your limits. Streaming is an additional pressure, of course; it's scary enough to sing on the stage and be evaluated by people sitting in the dark, but on the screen the audience can see every wrinkle. But it's best just not to think about it. Let yourself sing to the music itself, immersing yourself in it and conveying the message."
In the Mirjam Helin competition, participants have great freedom to choose what they perform. When preparing his repertoire for the semi-finals, Astakhov decided to look for an interesting concept that might surprise the audience rather than concentrating on separate pieces. "I chose lullabies in six languages, from different periods and styles. You'd expect lullabies to be gentle and calming, but take Mussorgsky, for example – it's more like Schubert's Erlkönig, all about death, anything but calming."
"All about choices"
Astakhov grew up in a musical family of several generations, and the family continues to be a great support – in particular his father, the operatic bass Roman Astakhov. "We're still sending each other recordings and discussing work, even though we nowadays live in different countries."
When it comes to work-life balance, Astakhov thinks that for today's young singers it's all about choices, not having to choose between career and family. "It's exciting to sing and build your career as a performer, but it's also difficult not being able to be with your loved ones. But I think these can be combined: it's all about how you create the time for one or the other."
Going places
In Vienna, Astakhov has gained experience and has a lot going on. In December 2022, he sang in Wagner's Die Meistersinger von Nürnberg, and he was enthusiastically looking forward to doing Schaunard in a Franco Zeffirelli production of Puccini's La bohème after a long-awaited Christmas and New Year break. However, the year 2023 started unexpectedly, with Astakhov suddenly also stepping in for the role of Figaro in Rossini's Il barbiere di Siviglia and singing in all five performances.
For Astakhov, this was a "since forever" dream come true. In the summer of 2022, he sang in a shortened Il barbiere di Siviglia version for children. But Astakhov does not want to rush with developing his voice. "On the whole, I don't want to sing anything overly dramatic yet; nothing that would make me overdo it and make my voice tired. Now I'm seeking lyrical baritone roles such as La bohème's Marcello or Schaunard, or Valentin in Gounod's Faust. But of course I dream about singing on some big stages. The Opera Studio was a great experience; Michael Kraus helped me to become a better singer. And now I get to work with so many great people, with amazing conductors and directors!"
La bohème is another long-time favourite of Astakhov's. Part of the charm of opera roles is the costumes: the name tags indicate which legendary singers have used them before. Moreover, La bohème is such a well-constructed work of art: there is no piece missing in the puzzle – except, of course, the famous missing act." (For the curious: see Wikipedia.)
Astakhov encourages aspiring young singers to put themselves to the test and enrol in competitions. "Don't miss the opportunity! The Mirjam Helin competition is closely watched by casting agents and other professionals – even if they are not present. As a public showcase, the competition is a great opportunity to show your talent to everyone."
Stefan Astakhov on the Vienna State Opera website
Stefan Astakhov – Largo al factotum (Il barbiere di Siviglia) on YouTube