Singers' perspectives – Follow the Shadow Jury's Blog
25 May 2019
A buzzing of different opinions is part of the feel of a great music competition. You can mirror your own thoughts with the Mirjam Helin Shadow Jury, whose blog offers a singer's perspective on performances during the whole competition.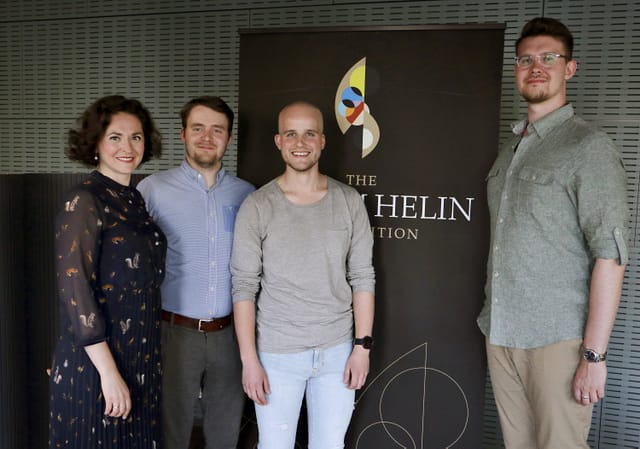 "The jury is not allowed to comment on anything during the competition, so the Shadow Jury can shed some light on issues that the jury might be pondering on", clarifies soprano Olga Heikkilä, chairman of the Shadow Jury. She is accompanied by Tuomas Miettola and Johannes Pessi, students of Sibelius-Academy, as well as Antti Mähönen who studies in Oulu conservatory.
The Shadow Jury was first introduced in the 2014 Mirjam Helin competition. This time the new team helps to enrich the audience's competition experience by both videos and blog posts. After every session the Shadow Jury discusses the performances and Antti, Tuomas and Johannes take turns in sharing the Shadow Jury's reflections. All blog posts are then translated into English by Olga Heikkilä.
The Shadow Jury is not to judge the competitors but rather to animate discussion among the audience.
"What is interesting is how certain singers divide opinions", notes Johannes Pessi. In a music competition, there is no absolute truth – only different opinions.
For these three young vocal students it is a rewarding opportunity to follow the competition closely.
"You can take up some hints as how to prepare yourself for a competition. Regarding my studies as a vocal pedagogue it is also good to listen to as many different voices as possible", says Antti Mähönen. He thinks that the Mirjam Helin competition offers a delightful cornucopia of different voices and vocal interpretations.
Tuomas Miettola views singing competitions as important occasions for learning and development.
"You can learn how to programme your repertoire and how to handle stress. It gives you important contacts and experience in performing. And of course the prize money has some importance too, there's no need to deny that", he says.
In July Tuomas Miettola and Johannes Pessi will take part in the Timo Mustakallio Singing Competition in Savonlinna. Johannes Pessi thinks that listening to all the Mirjam Helin competitors trains the ear and invites a wide range of reflections about singing.
"Of course you mirror all that to yourself as a singer."
Follow the Shadow Jury's blog here!
Text: Auli Särkiö
Photo: Heikki Tuuli