"Music and art are my wings" – interview with Kateryna Kasper
16 December 2022
The Ukrainian soprano Kateryna Kasper, one of the winners of the 2014 competition, returned to Musiikkitalo with Matija Meić for the Helin Laureates Sing for Ukraine concert in September 2022. What was it like to come back and what does she feel about the war, culture and the Mirjam Helin Competition?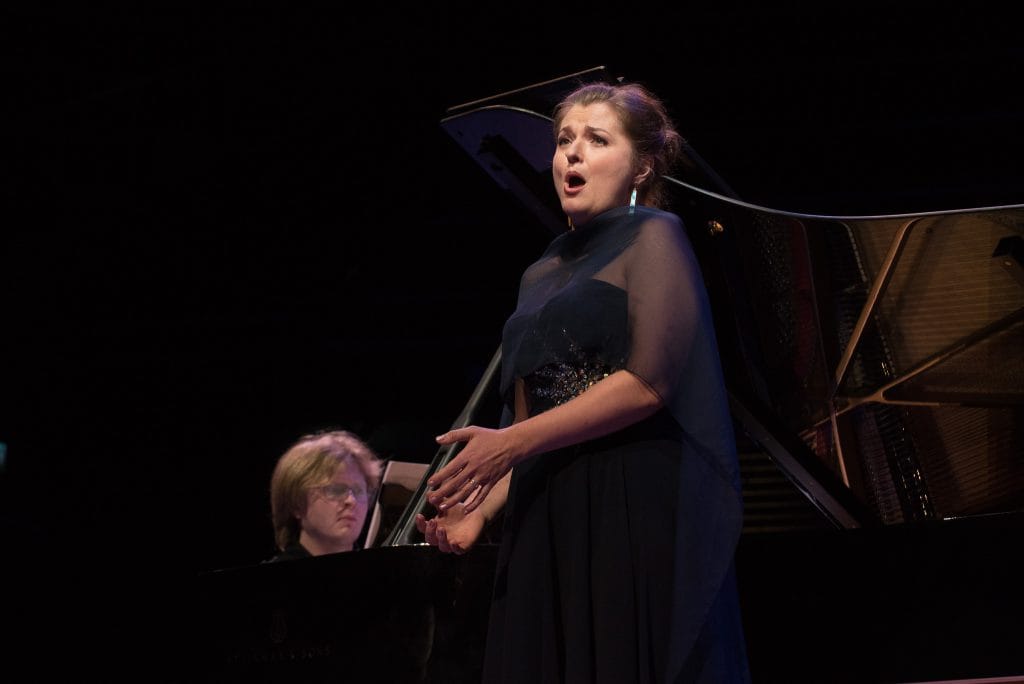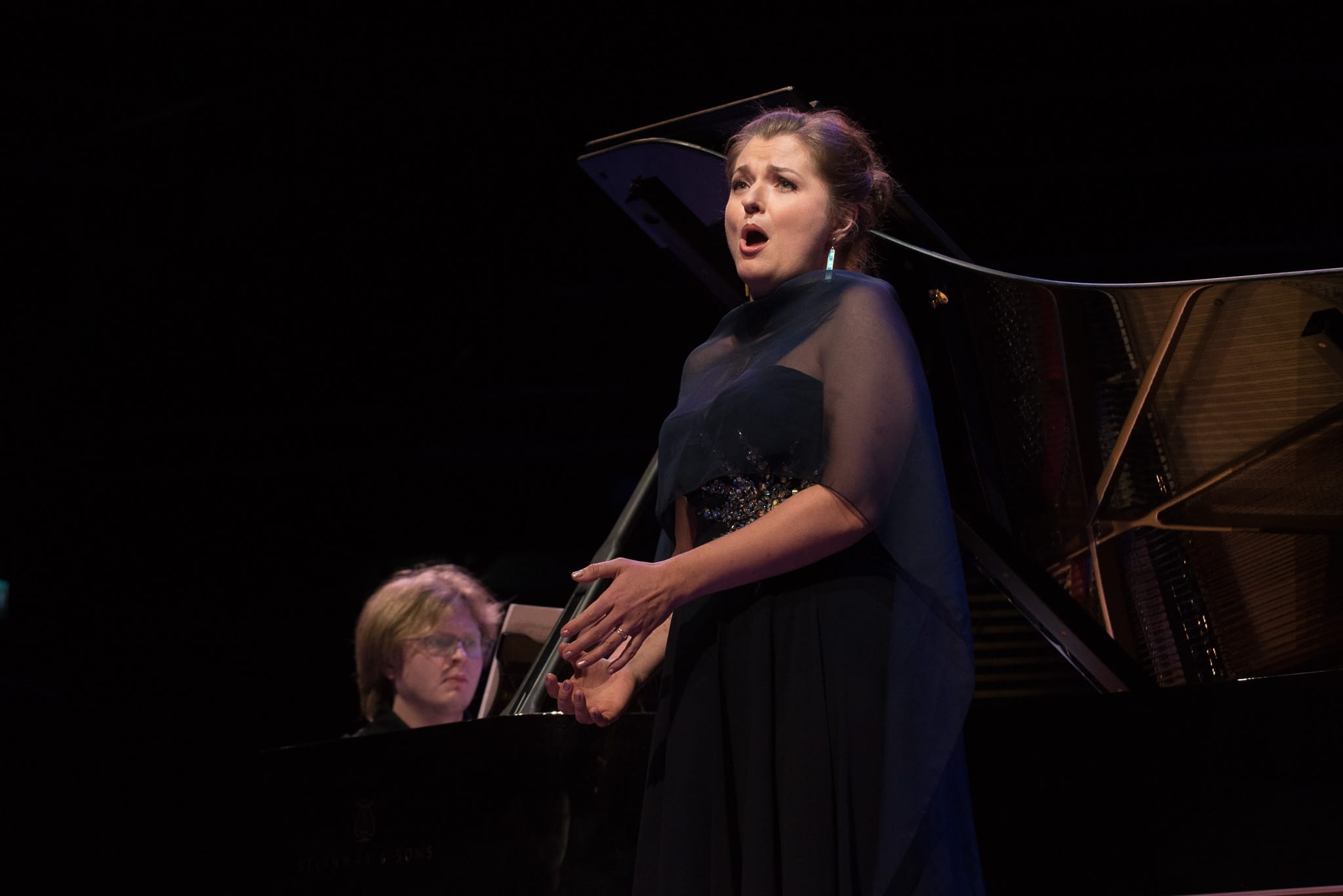 When I was first contacted about the Helin Laureates Sing for Ukraine concert, I knew that it would be a very special occasion for me, for a number of reasons.
Musiikkitalo is a unique place where I experienced a whole spectrum of emotions in 2014 – connected with the intense competition time and at the same time constant fear for my parents, who at that time were sitting in the basement in our house in Eastern Ukraine. Such memories stay with you for a very long time.
And now this concert would be in this wonderful place of art, where you can be happy as an artist and have a whole cosmos of possibilities. (It also feels like outer space, when you stand in the hall and the lighting around you looks like the eternal starry sky). And, again, the war in the whole of Ukraine and the occasion of the concert is connected with it.
Before my reunion with the concert hall, I was excited. Before I sang the first notes, I first greeted it in silence. When I saw the marvellous Helsinki audience in front of me again, I wanted to be silent for a very short time before the music filled the hall with its magic.
It is an intense moment of truth, happiness, gratitude, and dedication.
"The education of a singer never ends"
Before the Mirjam Helin Competition, I had done a few other competitions. Participating in the competitions was an important element of my education. I learned a lot about myself in the process: it moved me forward.
Although the education of a singer never ends, the Mirjam Helin competition was, for me, a bright conclusion of an epoch, a milestone on my path of education as an artist. Receiving an award reassured, motivated and inspired me. At that time, I already had an engagement at the Frankfurt Opera, and with the first prize in the Mirjam Helin competition, I made beautiful acquaintances, concerts and contacts in Finland, Portugal, and Japan, and received unforgettable memories and valuable experiences.
"The level is top"
I can only speak highly of the Mirjam Helin Competition from the heart. It is definitely unique.
The competition offers a platform for making valuable contacts, for presenting one's own skills, for learning and developing.
Young singers can be sure that the Mirjam Helin Competition is the place where they will feel absolutely welcome in the friendly atmosphere, always supported. The level is top. The jury consists of world famous singers – just performing in front of these personalities is a great gift.
The organisation couldn't be better: a mixture of perfect and loving, personal, friendly.
The repertoire is very demanding, but it also leaves a lot of freedom and gives the opportunity to show your versatility.
"People are fully responsible for what they bring into this world"
We are living in times of radical change. The accelerating climate catastrophe, epidemics, wars, everything seems to suddenly collapse on you and make you easily lose heart. The war in my home country, which affected my family and friends already in 2014, has reached catastrophic proportions. Death is so close to us. In this light, sometimes discussing how culture and music can help right now seems almost naïve.
On the other hand, personally and without exaggerating: music and art save me, they are my wings that can rescue me from desperate thoughts. There are many people for whom art, and music in particular, are a great support, comfort and remedy in difficult times. Art and culture can enrich human coexistence and connect people with each other. They can make people curious about each other and create mutual understanding.
On the other hand, art and culture can be used to incite people against each other and oppress other people, as the people in Ukraine are painfully experiencing. Russia's colonial war is not least a crusade to destroy the "wrong" Ukrainian culture. Especially in times like these, artists have to be careful not to let themselves be instrumentalised by such contexts out of naïvety. Art is also political.
People are fully responsible for what they bring into this world. I think the more people bring light into the world, the less room there is for evil. We have to keep living and doing good. We have to use the creative power that is given to us for good and try to make the world a better place!
What's next?
I have a very nice season ahead of me. Actually, I love the German word for it – "Spielzeit", playtime.
I am very happy to be able to work with many good musicians, orchestras and ensembles again. I'm working again with the Freiburg Baroque Orchestra, La Stagione, B'Rock Orchestra and with René Jacobs and Michael Schneider – that's always a special and enriching collaboration.
I recently made my debut at the Staatsoper Unter den Linden with the great role of the Empress Arianna from Vivaldi's opera Il Giustino; I was very much looking forward to this, as it was also my first collaboration with the Akamus Orchestra. I will also be performing with the Cologne Chamber Orchestra and Christoph Poppen and the International Bach Academy.
I will sing in three opera productions at my home theatre in Frankfurt am Main, but also many concerts across Europe – in Germany, France, Switzerland, Portugal.
I also have the good fortune to do lied concerts again with my wonderful piano partner Dmitry Ablogin.
Pergolesi, Stradella, Vivaldi, Bach, Handel, Mozart, Schubert, Brahms, Schumann, Mendelssohn, Hensel, Humperdinck – their music will carry me on its wings in the near future.
Watch and listen
The website of Kateryna Kasper
The interview of Kateryna Kasper on Yle Areena in the 2014 competition