Let go and share your heart
26 May 2019
The competition audience was captivated by the Sibelius songs interpreted by mezzosoprano Megan Moore on Saturday. Who will proceed to the finals of the VIII Mirjam Helin Singing Competition? We will find out tonight.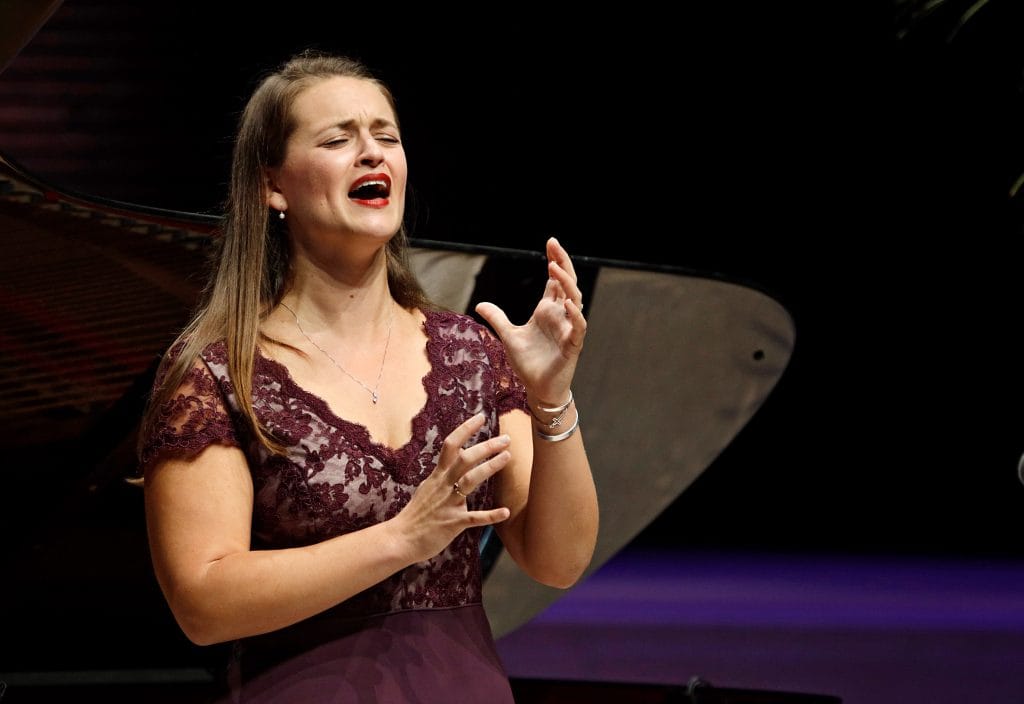 How did Megan Moore (b. 1990) discover the Sibelius pieces in the first place – and how was she able to sing them packed with such emotion?
"I made a Spotify playlist of famous Finnish composers and did some research. I had of course always known Sibelius, and I knew the song Flickan [kom ifrån sin älsklings möte], but I had never heard Var det en dröm or Den första kyssen before. Gosh, they are famous for a reason! I felt that I just have to sing them, I absolutely have to!" the American singer says.
She admits it was a brave and even a risky choice, to programme some of the most famous Sibelius songs – three of them – to end her semifinal performance, in front of a Finnish audience. But the risk paid off.
"I knew there would be a big Finnish audience who is passionate about the competition, I wanted to honour them, to connect with them. And I did, it was an honour to sing this music that means so much to them and to hear them like it. That's the thing in being an artist."
Moore says she always wanted to be a singer so that she could communicate with the audience.
"I want to share my soul, to share my heart. We spend so much time focusing on the vocal technique and trying to get the voice to work. Now I feel it's time to let go and express what I have. It's not easy, but I want to be honest and truthful with my voice and take the audience somewhere with me."
Megan Moore has an extensive voice, and she freely admits seeing herself somewhere between a mezzosoprano and a soprano – a so called Zwischenfach mezzo. She often performs songs from the soprano key.
"It wasn't until I was 25 that I started calling myself a mezzosoprano. You should sing what is comfortable and not to think too much about the voice type!"
Text: Auli Särkiö-Pitkänen
Photo: Heikki Tuuli