"It must come from your heart" – Carolyn Sampson on Lieder
10 November 2023
In the second part of our blog series on Lied music, we met with British soprano Carolyn Sampson, who specialises in Lied and early music. She enjoys a close-knit collaboration with pianist Joseph Middleton, with whom she has released ten duo albums to date. She encourages young singers to find their own approach to Lieder and not overthink it too much: "Find the songs that speak to you, and be honest with yourself."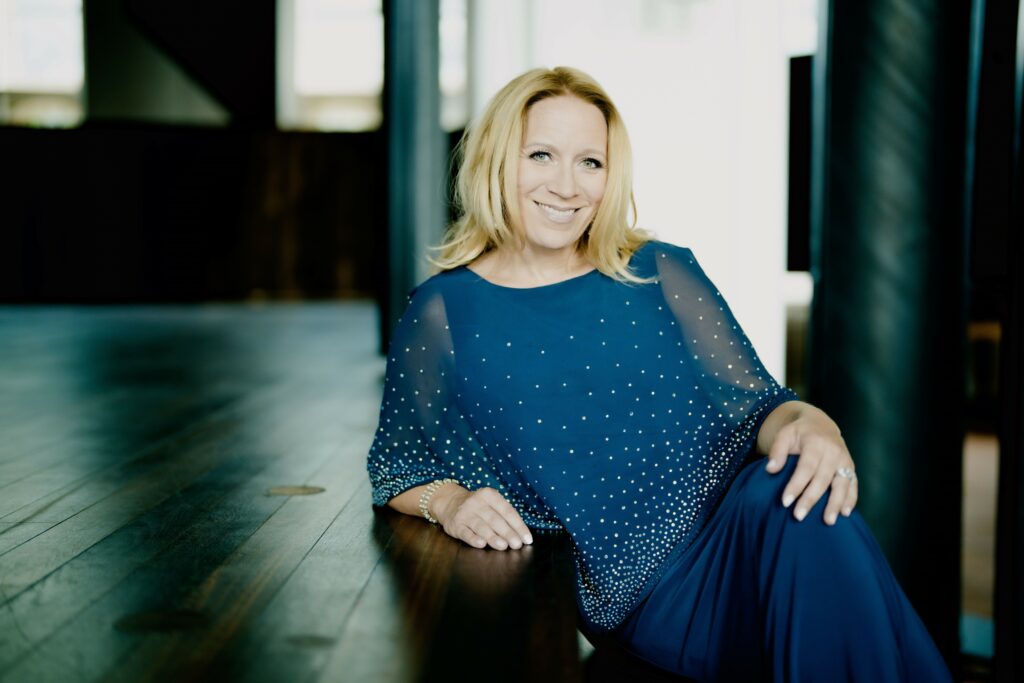 Carolyn Sampson takes my video call at the Berliner Staatsoper, where she is working on Marc-Antoine Charpentier's Médée, a masterpiece of French baroque opera crowning the Staatsoper Barocktage in November. The British soprano combines baroque opera, chamber music and orchestral concerts in a career that started with early music and developed into a great variety of styles, ranging from Strauss Lieder to contemporary music.
"Early music has always felt very natural to my voice. I don't feel I have to restrict anything, but I can use all the colours in my voice", she says. In fact, she compares the voice to a painter's palette from which she chooses different shades depending on the repertoire and individual pieces. The difference is not so much in the vocal technique but in the colours. Being sensitive and open to the music helps her switch between different musical approaches.
When it comes to Lied music, the colour palette is by no means diminished to pastels, but instead it is in full use.
"You tend to think about Lied as a small form, but for me it is the form in which I can make the most of my colours", Sampson says with enthusiasm. "I can use my full voice but also sing very quietly and bring every possible emotion into play. For me, the dynamics and emotions of Lied music are the richest of all."
Depending on the programme, an evening of Lieder can display the whole range of human life, from joy to grief, heartbreak, doubt or sarcasm.
A Lied repertoire plays an integral part in the International Mirjam Helin Singing Competition. In the next competition, which is to take place in early June 2024, a new special prize for best Lied performance will be awarded for the first time, emphasising the importance of the all-round versatility sought in the competition.
A full-century catalogue
When Carolyn Sampson browses a new Lied repertoire, she sits at the piano, accompanies herself and sings through the songs. Often, she ends up singing everything in front of her and not just the pieces she intended to. The possibilities when creating a Lied programme are endless.
"Right now, I have a slight obsession with Poulenc going on", she laughs. "Normally, one project sparks the idea for the next." Thanks to connections with recording companies created during the early music projects at the beginning of her career, Sampson is happy with the privilege of being able to record all her Lied programmes.
Her first project with pianist Joseph Middleton, released on CD in 2015, was a flower-themed recital in German, English and French. After that, programmes of French and English songs followed, plus a series of Schubert:
"First we did a programme with female characters, and our latest Schubert release Elysium is about the afterlife. The next Schubert theme will be nature", she explains. "Schubert has something to say for every mood and occasion."
Sampson works with different pianists from time to time – or fortepiano or lute players for that matter – but she feels lucky to have Joseph Middleton as a regular Lied partner. Lied music is essentially a game for two.
"Joseph is also a good friend, and our families spend time together. We share a similar way of making music and practising."
Soon Sampson will release the hundredth album of her career. She finds that doing more recording and fewer opera roles suits her family life well. The last ten years, during which she has shared a collaboration with Joseph Middleton, have given Lieder a prominent role in her career, although baroque music still plays a major part. In Finland, she has a long-time collaboration with the Helsinki Baroque Orchestra, with whom she has performed Bach cantatas and baroque arias, as well as 19th century music on period instruments. The latest project with HeBo was a rather special one, as Sampson took the title role in Schumann's only opera, Genoveva, last spring.
A living situation
Carolyn Sampson is excited about the freedom of shaping a Lied recital.
"With programming, you can create a narrative or a context and then let the audience have their own thoughts about it", she says. "Every concert is different, even with the same programme, depending on the audience and the size and atmosphere of the room. It's all very subtle with Lieder."
Each member of the audience comes from a different life situation and experiences the poetry and music in their own way.
"I believe in honesty. With Lieder, a singer is invited to bring more of themselves into it. And when you do, you also invite the audience to do the same. It's important to me that the audience feel they can experience the music on their own terms."
Sharing the stage
Opera has a specific narrative and also draws a distinct line between the audience and the stage. Songs happen in the same room as the audience, Sampson points out. Lied music is about sharing. And as a duo, you're never alone.
When working on a programme, Sampson and Middleton discuss the poetry and delve into the backgrounds together. For their French song project on Verlaine's poetry, for instance, they visited a museum displaying the Watteau paintings that inspired the poems.
"We have a strong awareness of each other on stage, and we can rely on each other perfectly. Joseph knows when I breathe and when I start singing. My ears can pick up something he does on the piano, even subconsciously, and the music takes a new direction. That's how the performance feels alive and fresh."
Not just Schubert
Lied music has an aura of elusiveness and may seem somewhat intimidating to young professionals. Carolyn Sampson has some words of comfort.
"Don't overthink it! French songs or German Lieder are not for everyone. Find the songs that work for you and speak to you."
She also encourages everyone to find their own approach to singing recitals. There are no limits to creativity when it comes to combining different styles, contexts and art forms.
"Lieder doesn't mean just Schubert! Find your own thread and follow it. It must come from your heart; it is you on stage."
Text: Auli Särkiö-Pitkänen
Photo: Marco Borggreve