"We try to provide the light" – interview with Matija Meić
18 November 2022
A 2014 laureate of the Mirjam Helin Competition, Matija Meić returned to Musiikkitalo with Kateryna Kasper for the Helin Laureates Sing for Ukraine concert in September 2022. In this interview, he takes a look back and shares his thoughts about the role of music and culture in times of crisis.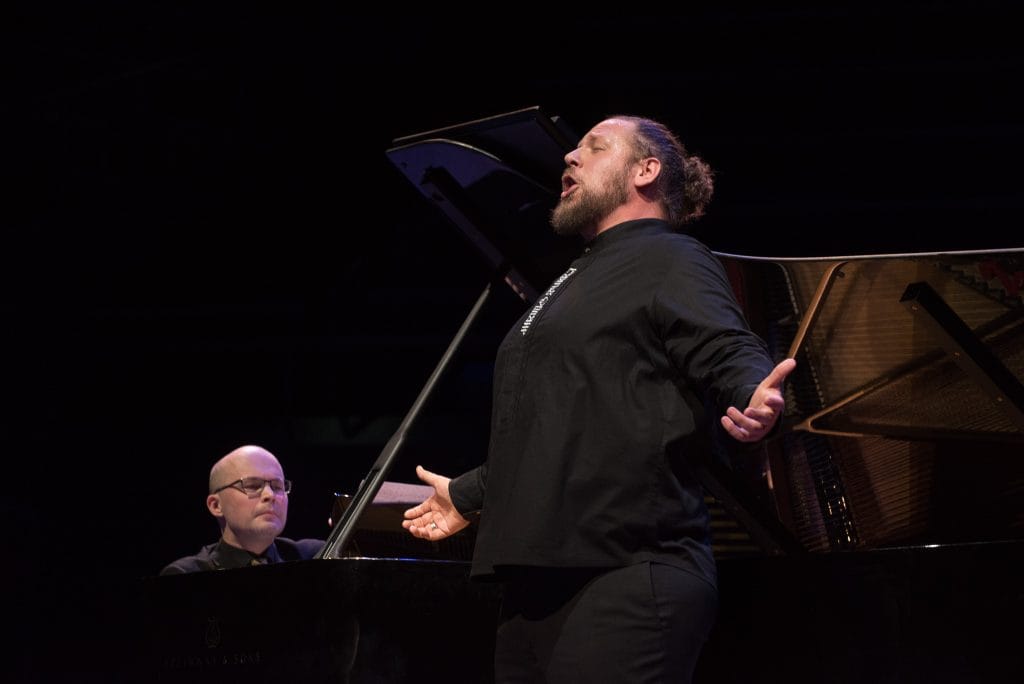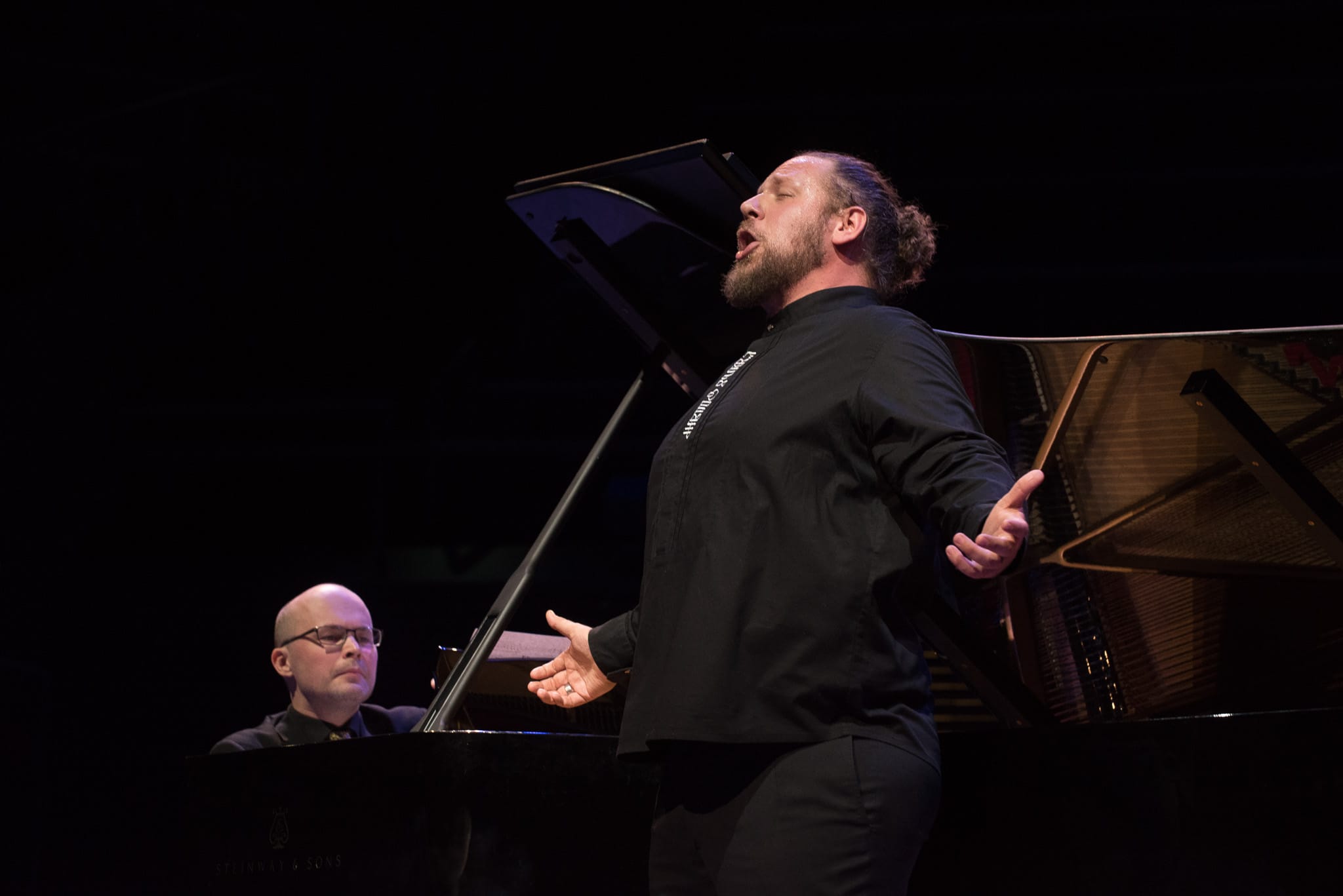 This was the third time for me to appear on the Musiikkitalo stage since the 2014 competition. It's one of my favourite places; it's always a celebration to sing there, a delight.
I love lieder, and when I was asked to do a concert and suggest the kind of programme I liked, it was like being handed a birthday cake.
Performing with Kirill Kozlovski is great: with him you go to A+ level. We have collaborated before, in 2017 at the Rauma Festivo, where we did the Papandopulo cycle. Kirill has complete mastery of his instrument; his palette of playing is so wide. It's not just accompaniment, it's always collaborative, like ping-pong back and forth.
"A turning point in my life"
To me, participating in the Mirjam Helin competition meant three different things. You could say that it was the root of my international career, a turning point in my life.
Firstly, being judged by accomplished singers personally meant a fresh look at my development – am I heading in the right direction? The feedback helped in practical matters, and I got great career advice. Positive feedback is important for a young, developing singer.
Secondly, it opened doors for me. I got to perform with Kateryna and the Gulbenkian Orchestra in Lisbon, and I sang with the Helsinki Philharmonic Orchestra conducted by Susanna Mälkki. I also participated in the St Matthew Passion with Nathalie Stutzmann and the Royal Liverpool Philharmonic Orchestra. After the Mirjam Helin competition, people pay attention to you.
Thirdly, competition success meant financial stability. After the competition, I returned to Croatia to finish my studies, and began to build my career.
"Being judged by professional singers only is exceptional"
My overall feeling about the competition is that it is unique. It tests you in all the three different parts of our profession: lied music, sacred music such as oratorios and cantatas, and theatre and opera. If you want to show your skills in all three, Mirjam Helin is the right competition for you. Also, being judged by professional singers only is exceptional – by people who have been there and done that. Most competition juries include administrators, casting agents, conductors and so on: they have a different point of view, about how you look, how you move, the whole package. I think this is the most important and inviting thing about the Mirjam Helin competition.
The Mirjam Helin competition also provides the singer with an exclusive experience, because it is arranged only every five years. It really brings together some of the best talents of each generation.
From a practical point of view, the accommodation and per diem allowances are great: it's easier for the budget and makes it all about singing, not having to concentrate on covering your costs. I stayed with a Finnish family in Lauttasaari. It was a wonderful experience, getting to know the Finnish way of life and cultural aspects of Finland and the city.
"Political conflicts come in and try to divide us, but music unites us"
I am a child of war. I know many people who had private losses in the Yugoslav Wars in the 1990s. War is something I can really relate to.
The opera world has always been inclusive and international. We have different nationalities, composers, colleagues. War means a division between people and culture, but culture and music are great tools for uniting us. Personally, I have both Ukrainian and Russian friends. When we perform on the stage, we have one nation, one mission; we make music and give our best. During our work, there can be no division. Political conflicts come in and try to divide us, but music unites us. We cannot make judgments on the basis of nationality – instead, we must make them on the basis of character, values, and ethical and professional standing. That's what shines through the fog of war.
We try to provide the light. Take the audience into another dimension; give them a moment of relief. Culture and music are communal. There are hundreds of people both on and off the stage, and together with the audience, there is a synergy that is almost sacred.
You can see that after Covid. There is this bond between performers, technical staff, and the audience. We need each other more than ever.
The last piece we did in Munich before lockdown was Eugene Onegin. We had an audience of 50 people. They were loud and enthusiastic, and we ended up applauding them. After Covid, the first piece we did was, again, Eugene Onegin. There is a sacred space that is formed: how magical music materialises; it works back and forth. The war and Covid made this even more visible and pure.
As artists and individuals, we cannot really influence international politics or stop wars, but we can show that we care, and that those who suffer are not alone. Every artist who comes with a pure heart is welcome in the community. This is a profession that includes when there is division; we show an example of inclusion and love. Charity concerts come on top of that; if we can arrange them, even better.
What's next?
Recently, I have moved towards more dramatic roles in opera; I want to develop my repertoire in the Verdi-Puccini direction. In the coming season, I will be performing the roles of Germont in Verdi's La Traviata and Miller in Luisa Miller, as well as Nick Shadow in Stravinsky's Rake's Progress. I'm really looking forward to international productions.
Rigoletto and Scarpia are such roles you can explore for 25 years.
I will also be doing Liederabends in both Croatia and Germany: The Songs of Death in November. As well as Mussorgsky, I will be singing Finnish songs: The Swan of Death by Tauno Pylkkänen. After I performed Pylkkänen in the Mirjam Helin competition, the pianist Tuula Hällström presented me with the entire song cycle by Pylkkänen.
Watch and listen
The interview with Matija Meić on Yle Areena in the 2014 competition
Photo: Sami Mannerheimo