Sharing insights – Masterclasses with the legends
28 May 2019
Before the culmination of the VIII Mirjam Helin Singing Competition it's time for the masterclasses with some of the members of our distinguished jury. First to go on Monday was Ben Heppner who we also met in interview.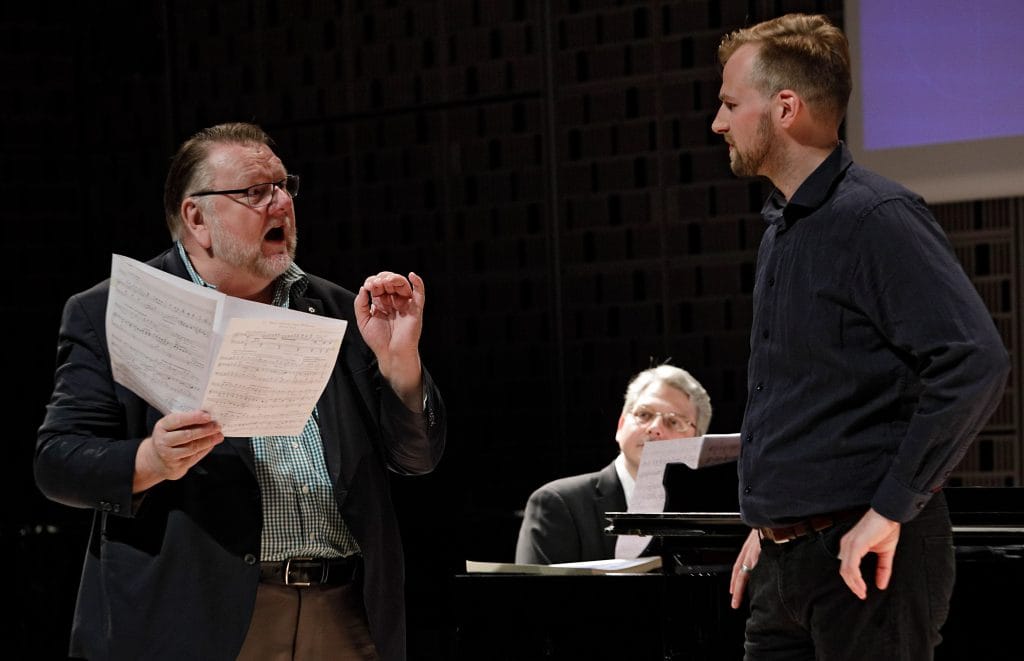 The jury members chose their masterclass pupils among the singers eliminated after the preliminary round, and Ben Heppner found he could have something special to give to the Finnish baritone Henri Tikkanen and the Korean tenor Jaewon Jung.
Open masterclasses are excellent opportunities for vocal students to watch and learn, and music lovers to peek "inside" a singer's vocal technique. Henri Tikkanen had some help with the top notes of Fritz's aria "Mein Sehnen, mein Wähnen" from Die Tote Stadt, and Jaewon Jung learnt some Wagner secrets with the legendary Canadian Wagner tenor. They worked on the interpretation of the famous aria "In fernem Land" from Lohengrin.
"Like a silver trumpet, not a trombone", Heppner shared his insights in Heldentenor singing.
The masterclasses will continue today afternoon in the Camerata Hall of the Helsinki Music Centre with Deborah Polaski, Olaf Bär and Vesselina Kasarova.

"Shine a spot on the talents"
Ben Heppner also served in the jury of the previous Mirjam Helin competition back in 2014. Meanwhile he has gained more experience in being a juror.
"I have learnt to listen with a different ear, to search more a potential than a professional polish", he explains. The former Heldentenor is impressed with the quality of the competitors.
"Some of these young singers are way ahead what I was in their age. It's amazing to see how well prepared they are and how solid their singing is."
Heppner thinks there's more pressure on young singers nowadays.
"You have to present yourself all the time, and there are less and less opera houses. On the contrary, singing competitions have been growing. Competitions are important, and that's the reason I'm here: we need international competitions to shine a spot on these wonderful talents."
What Ben Heppner finds special in Mirjam Helin competition is the emphasis on all-round skills.
"You have to be versatile today, so I'm glad this is a competition where you have to be good both in opera and art song."
Only eight finalists are now left among the competitors. Heppner thinks it's good to learn how to be resilient in disappointments.
"Your life doesn't end if you don't win, there's still plenty of possibilities!"
Text: Auli Särkiö-Pitkänen
Photo: Heikki Tuuli