Johanna Wallroth in interview
30 May 2019
Swedish soprano Johanna Wallroth, winner of the women's first prize of the Mirjam Helin Competition, charmed the audience with her radiantly bright expression. The singer says she is happy and relieved – she tells about her future and the way her hopes for a career in ballet changed to singing.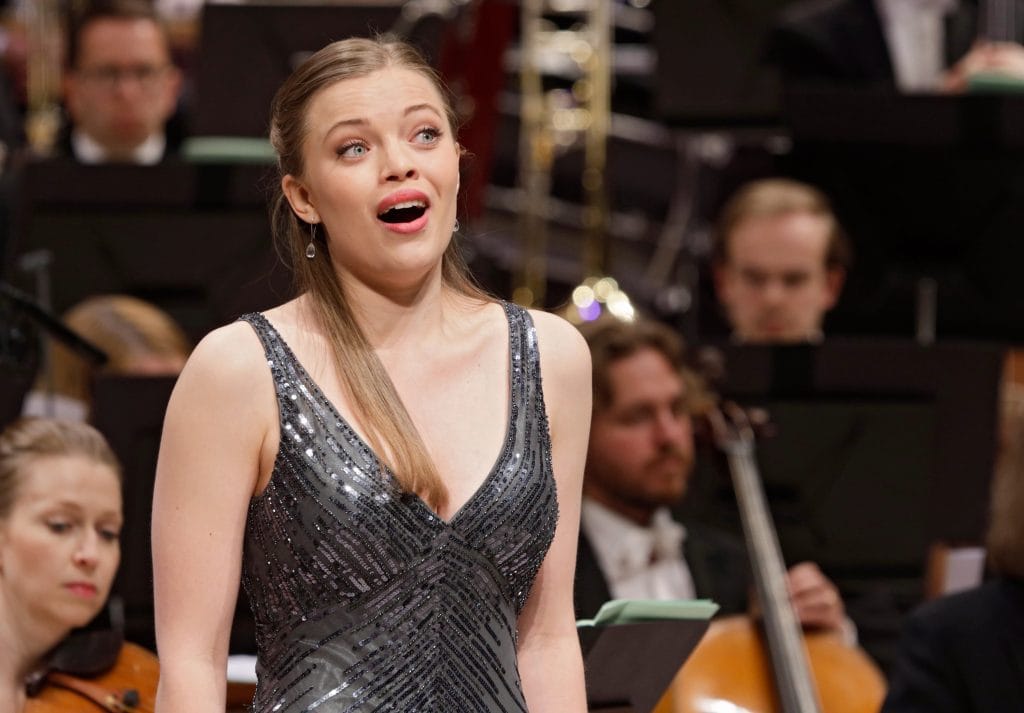 "This was the first morning I woke up to the alarm – the relief is big, and now I could sleep a bit better. It is a dream come true", Wallroth (b. 1993) tells. Security seems like the greatest blessing a competition win can give. "There will be a lot of auditions, and this makes me afford to take the opportunities without worrying too much. Being a freelancer means expenses in travelling and housing."
For her program in the final, Wallroth was looking for contrasts, and chose arias from Stravinsky's neoclassicist Rake's Progress and Gounod's Roméo et Juliette. "You can demonstrate many things with Stravinsky's long aria – in addition, I thought about the audience when choosing a piece in English."
Wallroth also studied to be a ballet dancer at the Royal Swedish Ballet School, before embarking on a singer's career. "I had already danced for a long time while I sang in different choirs, but I started ballet much later than the other students. So I had to fight for that."
Even though dancing did not become a profession, Wallroth can constantly observe the advantages it gives her as a singer. "I got used to expressing music with my body – I know myself, which is especially helpful on the operatic stage. The strong focus and discipline I got from dancing have also been a tremendous benefit."
Wallroth has visited Helsinki before, in a children's choir. "I also believe I have been in Savonlinna as a very young child, while my mother sang in the Opera Festival Choir", she tells.
Right circumstances, opportunities and dreams
At the moment, Wallroth is finishing her bachelor's degree in Vienna, at the University of Music and Performing Arts. She has also studied in Sweden, in Falun, and in Denmark, in Aarhus. "The biggest difference is in the budget. After I left Aarhus, they have made cuts to the most important thing, which are the one-to-one lessons.", she tells, regrettingly.
"What you need are the right teachers, repetiteurs working with the repertoire and a lot of hours", Wallroth says. "In Vienna, all that is like a dream, and the offer in concerts and opera is huge – when you can find time for that."
Wallroth has performed in productions of Mozart's Le Nozze di Figaro and C.W. Gluck's Orfeo ed Euridice at the Ulriksdal Palace Theatre, which is famous for period performances encompassing the staging, too. "The small, dim theatre has a very nice atmosphere, but you have to be careful with the candles, too", she laughs. This summer she will also perform in Telemann's Orfeus at the Vadstena Academy. It is known for producting rarities and training many Swedish singers.
Wallroth wishes to combine operatic roles and giving concerts in her career. "At the moment, my big wish would be to do the role of Susanna [in La Nozze di Figaro], which I have already done as part of my studies." The Swedish singer emphasizes the good atmosphere which prevailed among the Mirjam Helin competitors. She also wants to give her regards to the audience. "You could feel that people are really interested – that is fun, and without it we would have no reason to perform. Thank you for coming!"
Text: Justus Pitkänen
Photo: Heikki Tuuli