"It's the respect you receive" – interview with Johanna Wallroth
12 May 2023
Swedish soprano Johanna Wallroth won the Mirjam Helin Competition in 2019 with her ​"immediately engaging, intelligent and detailed performance" (Bachtrack). After the competition, she joined the Opernstudio of Wiener Staatsoper for two seasons and received the Birgit Nilsson Scholarship in 2021. Now she is back in her native Stockholm with a busy schedule.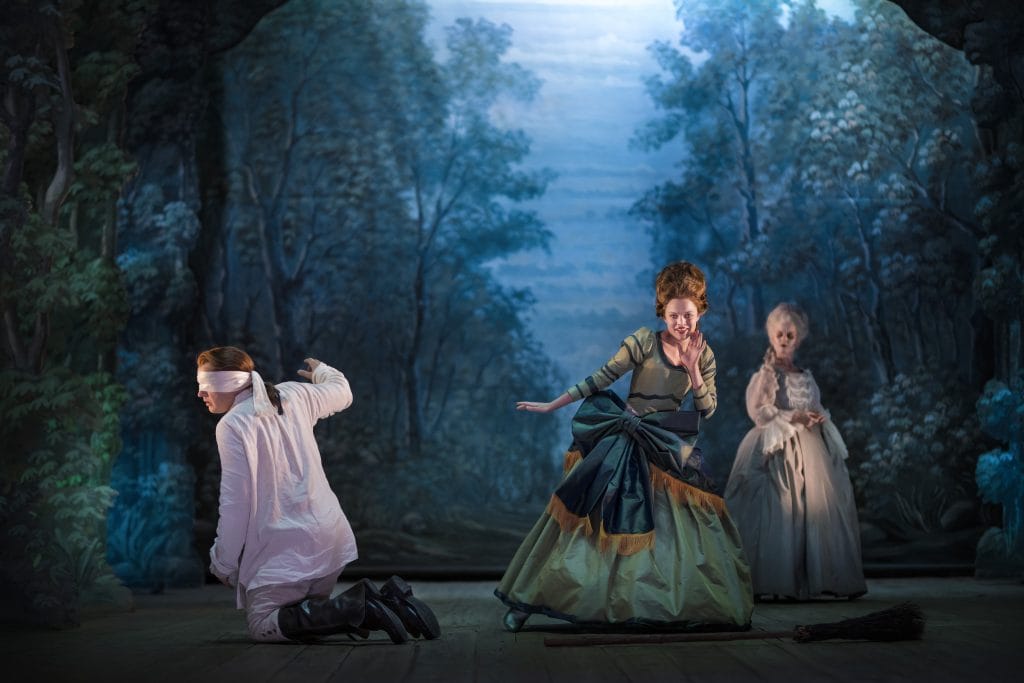 "This is my first freelance season. I'm back living in Stockholm, where I grew up, and my calendar is full of jobs. So you could say it's a dream come true", says Wallroth with delight. After Covid cancelled everything, Wallroth enjoys being back on stage.
Wallroth is the Classical Artist in Residence for the 2022/23 season with the Swedish Radio Symphony Orchestra. The second artist in this role, she follows the violinist Johan Dalene. Wallroth joins the orchestra for several concerts across the season, including Berg, Sieben frühe Lieder with Daniel Harding, Mozart arias with Martin Fröst, and Schubert's Mass in E‑flat with Andràs Schiff.
In addition to broadcasting her work with the SRSO, the radio follows Wallroth performing with other orchestras, as well – and Wallroth has a lot going on. Before Christmas 2022, she did a European Christmas tour with the Amsterdam Sinfonietta and Håkan Hardenberger. For the New Year, she sang in Beethoven's Symphony No.9 with Rundfunk-Sinfonieorchester Berlin under Vladimir Jurowski and Natalia Ponomarchuk. This spring, her programme has included Pergolesi's Stabat Mater and Mozart's Coronation Mass with the Orchester Wiener Akademie under Martin Haselbӧck at the Musikverein in Vienna.
"It's the respect you receive"
Wallroth was still a student at the University of Music and Performing Arts in Vienna when she first spotted the Mirjam Helin Competition. "I remember first reading about the competition on the Internet, and I decided to give it a go", recalls Wallroth. "It turned out to be great fun: it was so useful just to fill in the application and compile the repertoire, as the programme is so varied. You really get to choose and plan, assuming artistic responsibility. You also get a good mix of colours, both strengths and weaknesses. As a student, you become used to merely accepting suggestions from your professor, but for this competition, you have to see the big picture yourself."
Wallroth urges any prospective candidate to think carefully about the repertoire they will be singing. "Basically, you can fail or win on the basis of the repertoire. But in the actual competition, I recall never being stressed, as everything was so well organised and smooth. In some competitions, most of the time you just sit and wait. Not in the Mirjam Helin competition: you have a practice room, and you are able to plan your day ahead. Also, it's a great advantage that everything is provided, from lunch to pocket money."
What was outstanding about the competition, emphasises Wallroth, was to feel treated as an artist, not as a student. "It's the respect you receive, and performing with the fantastic orchestra and pianists."
"It's the respect you receive, and performing with the fantastic orchestra and pianists."
During the competition, Wallroth also listened to lots of the other singers. "It's interesting and helpful to see where I stand – and what I like and what I don't like, with respect to technique, for example. Also, the competition is never just an audition, as there is always a real audience present. You get to show your technical skills, and you have the opportunity to sit down with the jury after each round. The good quality recording is a great bonus as well, for later use."
Yet competitions may feel daunting, says Wallroth. "We're all different. But you get to meet people and learn a lot. To me, participating in the Mirjam Helin competition was a life-changing experience. Some people heard me live, and somebody told somebody – and before I knew it, I got offers from world-class orchestras and conductors." Wallroth's current agent also found her via the competition.
Sophie, Anne, Violetta?
What about the future? What kinds of dreams does Wallroth have?
"During my studies, I was able to try out a couple of my favourite roles, such as Susanna in Le nozze di Figaro. In the near future, I would really like to perform other favourites, such as Anne Trulove in Stravinsky's The Rake's Progress, and Sophie in Strauss' Rosenkavalier", says Wallroth. "Although this season I'm mostly doing concerts, I would love to do more opera. One day, when I'm ready, I hope to be Violetta in La Traviata, or Mimi in La bohème. I'm looking forward to that."
So is the audience.
Johanna Wallroth on the Harrison-Parrott music management website
Johanna Wallroth interviewed at the Mirjam Helin Competition in 2019