"A symbiosis of poetry and music" – A spotlight on Lieder
29 May 2023
The Lied often gets much less attention than the more splendid world of the operatic stage. To kick off our blog series on the many aspects of Lieder, we met an aspiring Finnish Lied talent, pianist Armaan Madar.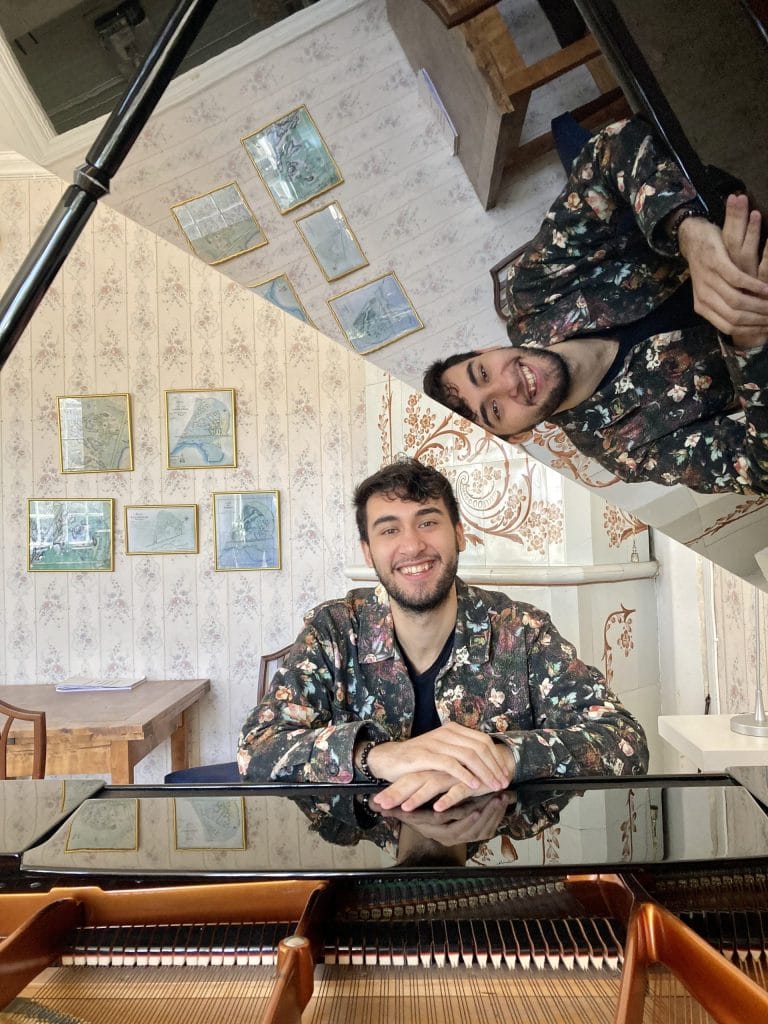 What is Lied? A gloomy baritone singing sad German songs from the 19th century, or maybe something more? The art of the Lied – or art songs for voice and piano – flourishes in many languages and offers a cornucopia of musical styles ranging from the late 18th century to this day. There is also no specific 'Lied vocal type', but Lieder can be sung by a variety of singers at all stages of their careers.
As suggested by the German word Lied ('song'), this art form was born in German-speaking Europe and cultivated most famously by Franz Schubert (1797–1828), Robert Schumann (1810–1856), Johannes Brahms (1833–1897), and Hugo Wolf (1860–1903).
However, over the course of the 19th century, many countries developed their own Lied traditions in their respective languages. In Finland, as in other young nations in need of a national identity, art songs composed to native poetry were crucial in establishing a national musical tradition. In Finland's case, this meant texts in both Swedish and Finnish.
Listen to Matija Meić sing Pastorale (1943) by Finnish composer Tauno Pylkkänen in the Mirjam Helin 2014 semi-finals!
Even though the basis of the Lied repertoire dates from the 19th century, the Lied form has been meaningful for generations of composers and is very alive today, too, as shown, for instance, by Kaija Saariaho, the world-renowned Finnish composer who just turned 70. Her output for voice and piano can be discovered on a recent CD by soprano Anu Komsi and pianist Pia Värri.
The singer as a chamber musician
Lieder play an important role at the International Mirjam Helin Singing Competition, the focus of which has always been on fostering a singer's versatility. Songs for voice and piano are naturally called for in the first round, but the second round specifically puts emphasis on the Lied repertoire, as a mini Lied recital lasting some 15 to 20 minutes must be included. During this round, the competitors can display their interpretation and storytelling skills, their chamber music communication, and their understanding of poetry in planning an artistic whole.
What makes a Lied unique is that it is never only a singer's song, but a unity formed by music and poetry, piano and voice, and two musicians of equal importance. (Click here to get to know the competition pianists in the 2019 competition! #LINKKI)
Young artists promote Lieder in Finland
The performance of Lieder has been firmly established in the Finnish musical scene for decades. The majority of distinctive Finnish opera singers, such as Martti Talvela, Karita Mattila and Soile Isokoski, have also cultivated a career in Lieder. Alongside the long-time affinity of Finland with German music, the rich repertoire of Finnish Lied has naturally been an important focus for many, with composers such as Jean Sibelius (1865–1957), Oskar Merikanto (1868–1924), Toivo Kuula (1883–1918) and Yrjö Kilpinen (1892–1959) being the most frequently performed.
This June, a festival focusing on Finnish Lied, called Arabia kaikuu (The 'Echoes of Arabia' or 'Arabia is Ringing'), will be organised in Helsinki for the second time, presenting primarily young singers and pianists. Arabia here refers not to the Middle East but to the Helsinki neighbourhood, which is home to the iconic Finnish ceramics and design company of the same name. The area features several picturesque villas and other interesting venues for open-minded musicians.
The artistic director of the festival is pianist Armaan Madar, 28. In 2021, he and soprano Maria Turunen were awarded first prize in the national Helsinki Lied competition, the only competition in Finland for Lied duos. The Turunen-Madar duo has been working together since 2011 and will soon release their first CD, offering a journey through the modernism of Finnish Lied. Reaching from Aarre Merikanto (1893–1958, the son of Oskar Merikanto) and Einojuhani Rautavaara (1928–2016) to young composers, the programme centres around the song cycle Quatre Instants (2002) by Saariaho.
A pianist swept away by Lieder
The collaboration of Armaan Madar and Maria Turunen, as well as Madar's passion for Lieder, dates back to their student years at the Helsinki Conservatory, which has been offering an intensive course for Lied duos for many years now.
"When I entered the course held by the incredibly inspiring pianist Heikki Pellinen and discovered Lieder, the union of words and music opened up a completely new dimension to my playing", says Armaan Madar. "In Lieder, the setting is quite intimate, but the world created by the symbiosis of poetry and music is infinite."
Indeed, a single song intricately weaving together words and music, melody and piano textures, can display depths of storytelling and emotion equal to a whole act in opera. Being a chamber music genre of small proportions, however, the Lied often gets much less attention than the more splendid world of the operatic stage.
Lied for the people
After studying at the Helsinki Conservatory, Armaan Madar spent several years in Sweden and graduated from the Royal College of Music in Stockholm. Now, in addition to his concert activities and further studies, he is a board member at the Finnish Lied Academy, an organisation offering Lied courses and concerts since 2014. "Maria Turunen and I have been attending every course offered by the Lied Academy", Madar says with a laugh. "Now I'm happy to contribute to promoting the Lied form in Finland."
This year's Arabia kaikuu festival, too, wants to spread the joy of Lied by targeting different audiences. There's a children's concert held together with the Lied for Kids! educational project, concerts given at senior retirement homes, and a club style Lied recital, as well as events featuring lectures, sing-alongs, and the spoken word. According to Armaan Madar, the festival team has been exploring how different combinations and locations affect the experiencing of Lieder.
A time-line of Finnish Lied
Virtually every era of Finnish Lied is present at the Arabia kaikuu, from early Finnish exponents of Lieder such as Karl Collan (1828–1871) and Richard Faltin (1835–1918), to contemporary composers Miika Hyytiäinen (b. 1982) and Heta Aho (b. 1992). The productive 20th century is represented by, among others, Sulho Ranta (1901–1960), Seppo Nummi (1932–1981) and Erkki Salmenhaara (1941–2002).
Armaan Madar and Maria Turunen will, of course, perform at the festival as a duo, among a cast of over 50 artists. "When working on a programme, we spend a lot of time discussing the poetry", says Madar. "We reflect on the links that the texts share with our personal lives and decide what it is that we want to tell the audience right now. The chamber music setting of Lieder gives a lot of space and freedom for interpretation. There's really no limit how to sculpt the phrases and give colour to the text."
Text and photo: Auli Särkiö-Pitkänen